The debt-free alternative to university
Going to university is often thought of as the gold standard of academic success and a rite of passage for many young people, but some are breaking with tradition and taking up degree apprenticeships instead.
When 19-year-old Radhika Parmar finishes her four-and-a-half-year course she will be awarded a BSc Hons Degree in Digital and Technology Solutions. But unlike most students, Parmar will not start her working life burdened by the debt of tuition fees and will not have to search for a job.
Parmar has just completed the first year of a degree apprenticeship at IT consultancy Capgemini. She works full-time at the company as an applications consultant, gaining on-the-job training and earning a salary while also studying for a degree. There are no tuition fees to pay as the government covers two-thirds of the costs, while the employer pays a third.
Introduced by the government in 2015, most degree apprenticeships are in areas such as engineering and technology. Apprentices earn an average starting salary of £17,511, rising to £24,652 when the apprenticeship is finished.
Although Parmar applied to study computer science at university, she soon made it her plan B after hearing about the degree apprenticeship.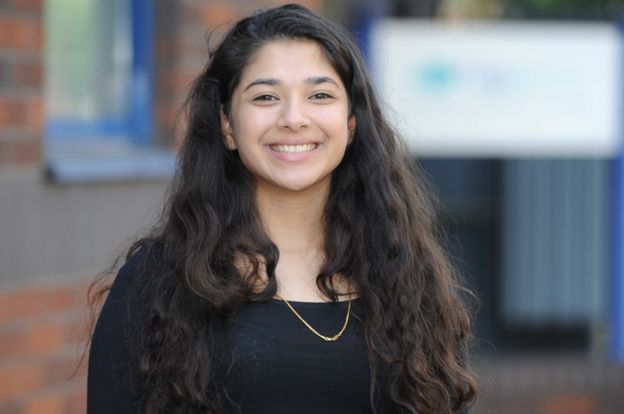 "Everything I'll learn during my degree I'll be putting into practice in my job. Whereas if I'd gone to university, I'd just be learning lots of things, but it wouldn't necessarily mean that I'd be able to implement them into my day-to-day job," she says.
Parmar's school was supportive of her decision, but not all are so encouraging.
Twenty-two-year-old Amber Westmoreland is half-way through a tax accounting apprenticeship with Ernst & Young. Working as an assistant tax adviser, by the end of her five-year course she will qualify as an ACA chartered accountant and a CTA-chartered tax adviser.
Her sixth-form college, however, was far from happy about her decision not to go to university.
"It wasn't until I had the job they asked me to go back and do a talk at college and then while I was there they were still trying to push the degree route rather than the apprenticeship," says Westmoreland.
Though she will not have a degree, the qualifications she will gain are those that any graduate has to acquire in order to become an accountant.
---
Find out more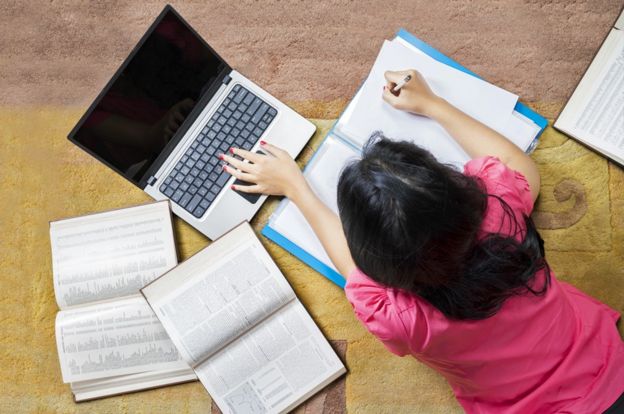 Listen to a report on degree apprenticeships on BBC Radio 4's Woman's Hour, or download the podcast
---
Schools nearly always measure success in terms of academic results and university entrance, says the BBC's Education correspondent, Sean Coughlan.
"University is seen as the more aspirational choice. And even with the cost of tuition fees there has been a relentless rise in young people wanting to go to university. Bucking that trend, and making apprenticeships seem as attractive, is going to be very difficult."
It wasn't only Westmoreland's college that had reservations about her decision not to go to university. She also had to convince her mother, a university lecturer.
"She was the first in her family to go to university," says Westmoreland. "I think she saw it as a step backwards rather than a step forwards. If you're the first one in your family to go to university you would then expect your child to.
"She was also worried that other companies wouldn't recognise the qualification that I'm doing, even though it's the qualification you have to do to be a chartered accountant."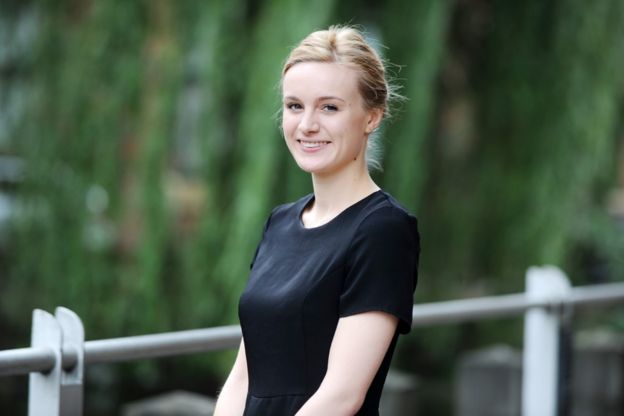 The traditional degree might be more well-known, but for both women the money they earn has given them freedom and independence. With her wages Westmoreland could afford to move out of home and rent a place in Manchester, where she works. And unlike most university students, she has managed to put money aside for costly holidays.
"Last year one of my friends was in New Zealand, so I saved up and went to New Zealand for a couple of weeks to see her. Another [friend] is in Canada, so this year I've saved up so that I can go to Canada next year to see her, and I don't think I'd have been able to do that if I wasn't earning," says Westmoreland.
"We get bonuses, so every time we get a bonus I'm like, 'Right, where can I go on holiday.'"
One attraction of university is the lifestyle – socialising, parties, a peer group of friends of the same age, some of whom may become friends for life.
For Parmar, her company offers an echo of this with its initial training programme, which lasts three months.
"On top of that, with Capgemini's university programme we do go down to Aston University and we get to socialise with other people that are doing the degree, even if they are at different stages," she says.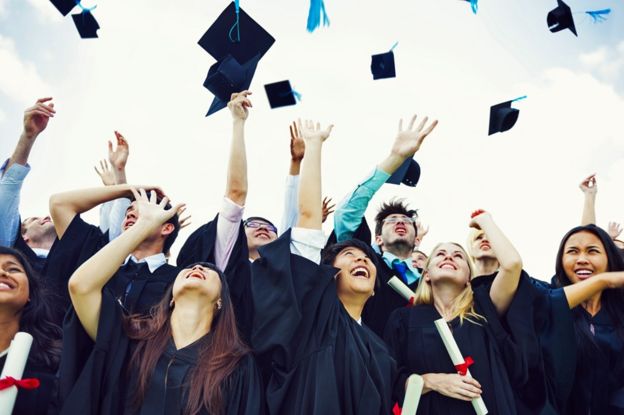 Westmoreland says one thing she likes about the apprenticeship is the opportunity to mix with a wider variety of age groups.
"If anything it's made me more open to different people," says Westmoreland, "because there are people I've made friends with who I'd probably never have come across if [I'd gone] down the traditional route, because you don't get thrown into a situation where you're going to be talking to a 40-year-old woman that often and become friends with them."
But according to the BBC's Sean Coughlan, there is somehow still a stigma attached to the idea of apprenticeships.
"It's proved very hard to change the unspoken perception that apprenticeships and vocational qualifications are only for those who have struggled with academic exams," says Coughlan.
This could not be further from the truth for Parmar and Westmoreland. They are academic high-achievers who have decided to break away from the traditional university pathway, and both stress that degree apprenticeships are far from an easy option.
"It's really quite difficult," says Parmar, "because you do your job 9am to 5pm and then you go home after work and you have to do the degree off your own back."
Parmar often attends lectures after work until 9pm in the evening. For Westmoreland, studying and working full-time can be exhausting, but it is all worthwhile.
"Sometimes when you're doing exams and it seems really hard and you're still doing work at the same time you're like, 'Arrgh there must be an easier way than this,'" says Westmoreland, "but at the end of the day I definitely don't regret it."